Desire to Play Basketball Brings North Central Sophomore
Back from A Severe Knee Injury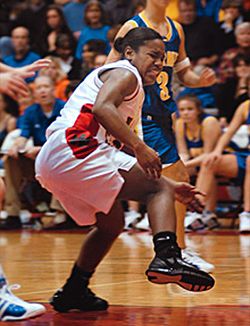 Brianna Bass injuring her right knee during a game. Briana Bass playing 6 weeks after ACL Reconstruction


North Central's Briana Bass Returns to Basketball Following
Surgey from Her Severe Knee Injury

Written by Kristen Leigh Porter, Copyright 2006 The Indianapolis Star
Photos provided courtesy of Bob Strempka at Strempkagallery.com

INDIANAPOLIS, INDIANA

Briana Bass would have loved to spend this semistate Saturday like she did last season, helping her North Central basketball team earn a state finals berth. After what she's gone through the past few months, the sophomore is just thankful to be able to play the game again.

As the starting point guard on last year's Class 4A title team, Briana suffered an anterior cruciate ligament injury to her right knee nine games into this season.

It surprised almost everyone outside the North Central program, when she entered Feb. 10's sectional semifinal loss to Carmel in the fourth quarter wearing a heavy-duty yet lightweight brace. Bass quickly stole the ball and sped down the court for a lay-up, looking like her old self.

"I was happy to be back out on the floor," said Bass, who all the while had been supporting her teammates at games and practices.

Said Coach Alan Vickrey: "She was so quick, it was amazing. In comparison to how she played and where she had been the previous Friday in practice, (it) was just unbelievable."

Dr. Steven Ahlfeld of Ahlfeld Sports Medicine Orthopaedic Center in Indianapolis, who handled her treatment, watched from the stands. From Day One, Ahlfeld said he could tell by the look in Bass' eyes that she had set her mind on getting back before season's end.

"Briana did something that very few people would be able to do in coming back to play on the basketball court at a high level in just six weeks," Dr. Alhfeld said.

Ahlfeld said that 20 years ago, recovery from knee surgery took a year to 18 months. But now it has evolved to the point in which a time frame such as Bass' is improbable, but not impossible. ACL reconstruction surgery can be done arthroscopically, and a piece of tendon from the front of the kneecap is used to rebuild the torn ligament, leaving a small scar from the 2-inch incision.

Soon after surgery, Bass began riding a bike and doing balancing drills, then moved on to working with weights and agility drills geared to getting her back on the court. The first few weeks, she grit her teeth through the pain.

"There were a lot of tears," said her father, Tim Bass. "We used to say 'No pain, no gain.' A lot of different things she took for granted at one time, she doesn't take for granted anymore."

To get the green light to return, Bass had to regain the range of motion along with strength and stability in her knee, and be of value to the team.

"Her desire was to do anything she could to help her team on the way to their goal in the sectional tournament," Ahlfeld said. "I don't think there's anyone who had more self-determination, courage, dedication than Briana had. She obviously has a great work ethic on and off the court, so it's nothing new to her to really go after something."

Part of the deal was that if she came back for the tournament, she wouldn't play AAU ball this season.

Instead, Bass participates in a weight-training class at school and rehabs at Ahlfeld's office with therapist Brett Grimes two or three times a week. She also does her own weight workouts and individual basketball drills on the weekends.

One thing Bass won't have to worry about is the injury affecting her college future. She verbally committed to powerhouse Tennessee in the fall.

Not even her teammates knew about the secret, because the Bass family didn't want to take attention away from star senior Amber Harris, a Purdue recruit. Even though Bass' camp also received letters from Duke and Louisiana State, none of the Indiana schools showed much interest until it looked like Bass could be a Volunteer.

Neither legendary Tennessee coach Pat Summitt nor Bass are concerned about her height (5 feet 2 inches) affecting her ability to play major college ball.

"When I go out there and play, I might look short, but I don't feel short," Bass said. "I feel like I'm just as tall as everyone else. When people told me I was too small to play, it was a motivation to try harder."

Even though she always has been among the shortest players on the court, Bass has shown great potential since her days in the girl's basketball league as a third-grader playing against fourth-graders. Her family credits Coach Vickrey for pushing her and believing in her long before she burst onto the high school scene as a freshman.

With two more years remaining in her high school career, Bass is motivated to help her team rack up more postseason wins.

Future opponents should take note: Bass has shown what she can do when she puts her mind to it.